Featured Item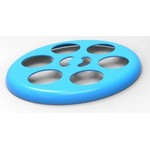 6 Cup Flying Disc Traybee Cup Holder
Cup Holder Frisbee has been designed for FUN & as well as to carry your cups. It can be used as a cup holder & can carry 6 cups or 4 cups. Our 14 1/6", 6 cups Frisbee is heavier than usual Frisbee Dis...

Welcome!

Welcome to Creative Promotion's Inc.

We've done just about everything that you could imagine...and so many things you'd never believe.

Let us partner with you in building a memorable promotional plan!

If you have any questions, please feel free to contact us. Thank you and enjoy!
Signature Showrooms